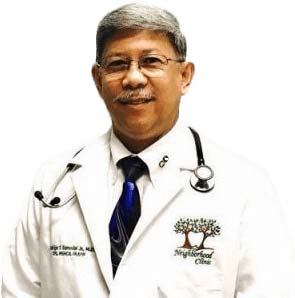 Board Certifications: North Carolina Medical Board, American Board of Family Medicine
Specialty: Family Medicine
Clinical Interests: Dermatology; Skin Cancer Screening
Dr. Rod Samodal recently relocated to Cary area to be closer to his family. He is originally a native of San Diego until his move to Pennsylvania where he attended residency and completed his specialty in Family Medicine. Dr. Samodal is Board Certified by the American Board of Family Physicians. He is licensed to practice medicine in North Carolina, New York and Pennsylvania. He has limited special interests in Rheumatology, Dermatology, and Adolescent Depression and Anxieties. He has published several articles on Immunomodulation of RA and has submitted his research in national conferences. He earned his Masters of Science in Health Care Management at Kings College, Wilkes Barr, Pa. and has recently been inducted as a Member of the Fellow of the American Academy of Family Physicians.
In addition to Primary Care, he has developed and expanded services to include Urgent Care, Women's Health, Adolescent Medicine, Sports Medicine and Skin Clinic. Dr. Samodal readily serves his community.
He also serves currently as the Medical Director of the local School District. He has been an active Scout Master of the local Boy Scout Troop and mentored 15 Eagle Scouts under his stewardship. He has been awarded the Scout Master of the year and recently been elected as a member of the Executive Board of Directors for the regional Boy Scouts of America, Five Rivers Council. He has been nominated as a recipient of the Jefferson Award for community services.
At a personal level, Dr. Samodal enjoys oil painting and playing tennis. He shares his time helping young people develop their skills and art talents. This is his work-life balance. Periodically, he travels back to the Philippines in support of medical missions at impoverished areas. He has a passion in serving his community as he does for his family. His philosophy is to live life in sharing and in giving as an integral part of the community. He strongly believes in patient centered care and holds all those involved accountable. This is reflected in the philosophy of the Neighborhood Urgent Care and Family Clinic.
If you would like to schedule an appointment you can either give us a call at 919-557-6667 or by filling out our form today!