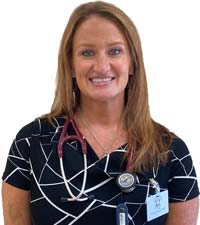 Michelle Stroup, FNP-BC began her medical career in laboratory services in Southern Ohio in 2002. After discovering her love for patient care, she decided to continue her education within the nursing field. Michelle obtained her Associates degree from Southern State Community College in Hillsboro, Ohio; Bachelor of Science Degree from Gardner-Webb University in Bowling Springs, NC; and her Masters of Science Degree from Simmons University in Boston, MA.
Michelle worked much of her nursing career at Wake Med Health and Hospital's Level 1 Trauma Center in Raleigh and Cary, NC. Michelle's clinical experience includes Pediatrics, Orthopedics, Surgery/Trauma, Oncology, and Critical Care. While carving her career as a Registered Nurse she held a specialty certification in Hematology/Oncology from Duke University.
She is now an ANCC, Board Certified Family Nurse Practitioner who specializes in Women's, Children's, and Adult/Geriatric services. Her specialty is Family Medicine. This specialty is designed to serve each patient throughout their lifespan. She is eager to treat patients throughout her local community treating a broad spectrum of acute and chronic disease processes. She looks forward to meeting and working with new patients daily.
If you would like to schedule an appointment you can either give us a call at 919-557-6667 or by filling out our form today!